Introducing the Voltaiq Battery Digital Twin
Voltaiq is excited to announce the launch of our Battery Digital Twin service, enabling customers to track a battery throughout its lifecycle: from materials and build, through operation, to end-of-life. With the enhanced Voltaiq Notebook software module, Voltaiq natively stores and indexes any type of complementary non-performance data describing a battery, including:
Materials lots
Production variables
End-of-line quality assurance data
PDF spec sheets
Images of key process steps (e.g. welds, teardowns)
Paired with our market leading Voltaiq Core, offering access to a battery's entire time-series performance history with the industry's fastest "time-to-data", Voltaiq now provides a complete history of a battery system — a true Digital Twin.
Traditionally, a battery's history has been stored across a variety of systems in a variety of locations: lab notebooks with handwritten records of materials and processing information, ERP and MES systems tracking materials lots and production parameters, and data historians tracking in-field performance, to name a few. The industry-leading Voltaiq Battery Intelligence™ software platform centralizes all of this information in a single, unified system, unlocking enormous value across the full range of battery applications and lifecycle stages.
Key benefit: Full-lifecycle traceability
The Voltaiq Battery Digital Twin is a powerful tool that can identify the key drivers of a battery's performance. In battery R&D, for example, the traceability provided by this Digital Twin helps researchers iterate on materials and design parameters more effectively, to more rapidly optimize battery performance. This same traceability can drive root-cause analysis to diagnose quality control issues in production or failures in the field, with the Digital Twin ultimately improving the overall reliability of battery-powered systems.
Key benefit: Battery lifetime and value estimation
As legislative and market-driven imperatives around electrification drive the automotive industry toward battery power, the Digital Twin becomes a critical component in determining the remaining service lifetime and economic value of a battery in use. Because battery aging is entirely path-dependent — driving patterns, voltage ranges, temperature conditions, and a variety of factors all play a part — the complete history provided by a battery's Digital Twin becomes the key factor in establishing a battery's remaining useful life and potential value, for either the EV resale market, or alternative second-life applications. Moreover, the Battery Digital Twin will minimize the need for costly pack teardowns and comprehensive cell testing by enabling a more time- and resource-efficient statistical sampling approach.
Key features
Voltaiq Notebook offers a coherent, end-to-end environment for tracking and analyzing any type of metadata describing a battery. Users can enter information directly at the individual device level, or use the Lot editor to easily track groups of batteries. For larger enterprise customers with existing enterprise resource planning (ERP) systems, manufacturing execution systems (MES), electronic lab notebooks (ELN), or laboratory information management systems (LIMS), the Voltaiq team can work directly with customer IT to create seamless, automated data import.
The complete Digital Twin of a battery system is accessible in a unified "Datasheet", offering a comprehensive overview of the battery — manufacturing parameters, operating conditions, and actual performance data — all in once place.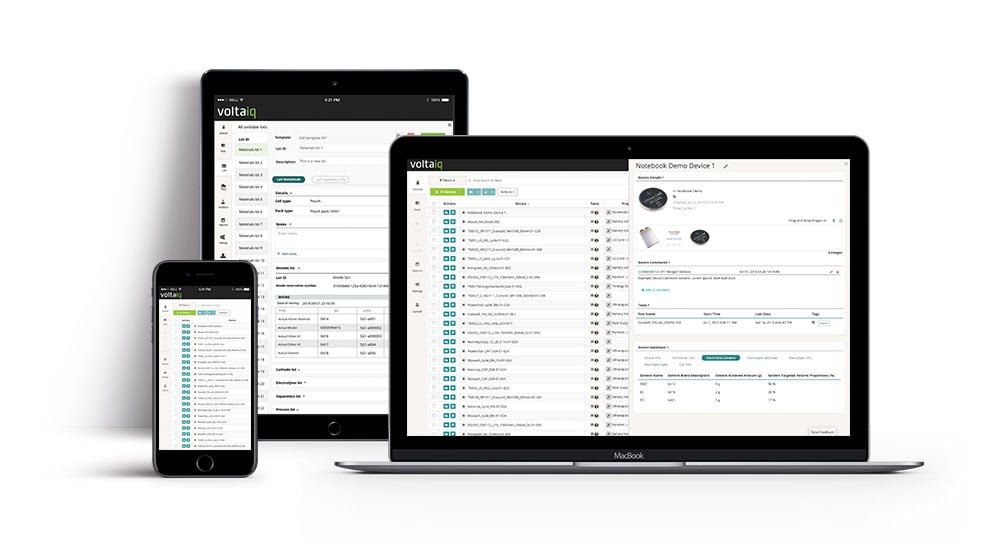 All of this information can then be surfaced for correlative and statistical analysis as well as modern machine learning through The Voltaiq Analytics module.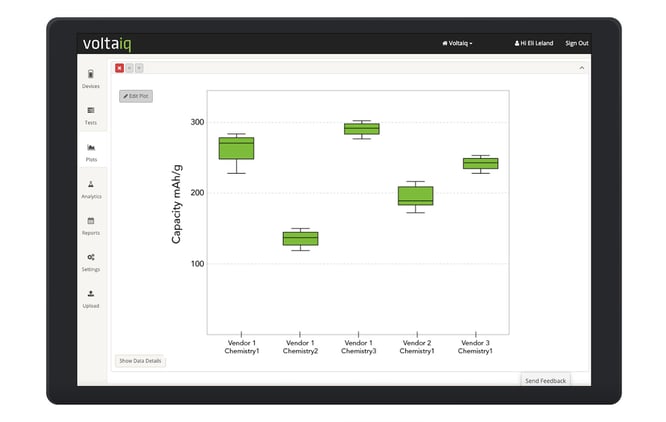 Contact the Voltaiq sales team today to learn more about how the Battery Digital Twin can drive your battery-powered business.