The Battle for Battery Engineers
Having trouble finding high-quality battery engineers? You're not alone!
As battery-powered electrification shifts beyond consumer electronics to electric vehicles and energy storage, companies are struggling to hire the battery engineers to electrify their products and meet their product goals.
Historically, engineering talent at these organizations has primarily comprised of mechanical and electrical engineering expertise, designing the form and functionality of these products and systems. These engineers have treated batteries like black boxes that need to fit into their devices.
However, as batteries have become the make-or-break component in low-cost EVs and long-lived consumer electronics, companies need a new level of insight and a high supply of engineering talent to ensure batteries are performant, reliable, and safe. Yet, companies are still working on building up battery engineering as a core competency.
Unfortunately, there are not enough trained battery engineers to fill all of the open positions needed to move these electrification projects forward.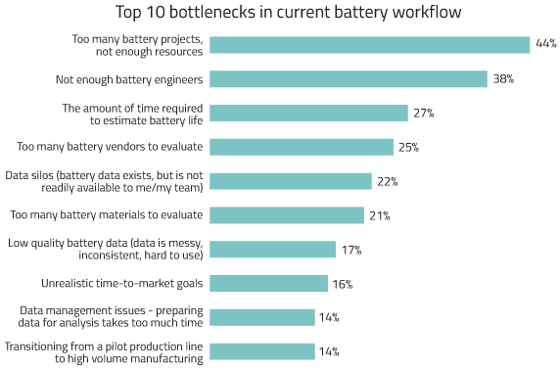 Earlier this year, Total Battery Consulting surveyed more than 80 professionals involved in battery development, testing, and decision-making. The culmination of this work is our white paper titled, Preparing for the electrification tsunami. The results help explain what's behind the bottlenecks they are facing.
Second in our ranking of key challenges, with 38% of respondents calling it out, is that there are not enough battery engineers to support the product goals executives are placing on their battery engineering teams. Furthermore, the list of top 10 bottlenecks is full of issues that require engineers to address, from too many projects and vendors to analyze, to systematic issues like data silos that make that analysis take much longer than it should.


As a result, the competition to hire battery engineers is fierce. For example, earlier this year, LG Chem sued its South Korean peer, SK Innovation, on the grounds that SK Innovation is at fault for misappropriation of trade secrets by hiring former LG Chem employees, a problem that is not unique to Korea. In fact, across Voltaiq's customer base there are 100's of unfilled, open battery engineering positions.
So what can companies do?
To optimize the use of their battery engineering teams, companies can make strategic investments in battery data analytics software platforms to work more efficiently with the resources and the data they have on hand. These platforms, also known as Battery Intelligence Systems (BIS) can unlock the latent value hiding in battery data that companies are already collecting today from battery factories and product OEMs around the globe, and "data lakes" gathered from systems in the field. In addition, the BIS can track a battery throughout its lifecycle, providing full traceability and a comprehensive overview of the battery's history.
BIS enables battery engineering teams to be more efficient, ensuring they meet their product goals for delivering our next generation of electrified products.
To learn more about the use cases for BIS, register for our three-part webinar series on what you can do to turn your battery data into your organization's competitive advantage.